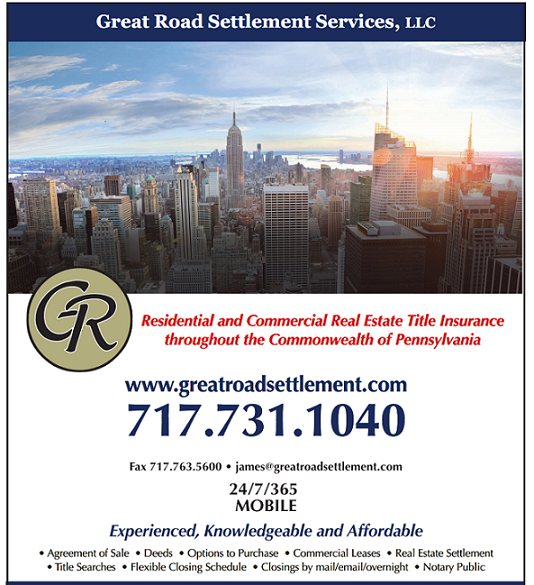 Real Estate Title Services offered by Great Road Settlement Services is licensed by the Commonwealth of Pennsylvania, Department of Insurance. It is managed by James A. Miller, Esquire, who has:

•    Over 30 years of real estate law, business and investing experience;
•    Transactional experience encompassing thousands of buyer/seller transactions.
Mr. Miller is also a member of the law offices of Miller Lipsitt, www.paatlaw.com and holds membership in numerous real estate groups.   Mr. Miller taught Business Law & Ethics at Elizabethtown College for 7 years.  He is a member of the Pennsylvania Community Bank, Operational Committee, Dauphin County Bar Association, Pennsylvania Bar Association, Pennsylvania Society and Perseverance 21.  

Title insurance is an essential component of today's commercial and residential real estate transactions. Real estate deals can often turn complex.  When purchasing real estate you are purchasing the title to the property - the right to the space.  That title can be limited by rights and claims asserted by others at some future point which may limit your rights to the property and even cause financial losses to you.  Title insurance protects against these types of title unknowns and potential losses.  

Title insurance isn't always so easy to come by; and working through the details of obtaining it is a job best left to the professionals.  We perform a title search identifying the property's history and clearing matters of record including but not limited to ownership, easements, liens, encumbrances and other property details. Title insurance protects your investments.  

Real property title insurance is issued after closing.  With Great Road Settlement Services, LLC, obtaining title insurance must not be stressful or complicated for you.  When you work with us, you'll benefit from our knowledge and years of experience. We are available 365 days a year at any time. It's all part of our pledge to serve your real estate needs, while providing the outstanding service you deserve.